'Tis the season for gifting! Here at Science Gallery Shop we believe that clever gifts are gifts that will keep on giving long after the wrap is excitedly torn off. Gifts that will delight, inspire and educate curious minds of all ages. Here's some of our favourites.
---
There's nothing better to gift than a book - books are for life not just for Christmas! And we don't think we've seen anything like this stunning Irish book - The Visual Time Traveller. This is a book where science and art collide, the author Alison tells us that scientists insist its a science book and artists disagree that it is an art book! There's no need to argue - it can be both! It's bursting with facts and beautifully presented. Take a journey through 500 years of history, art and science since the Renaissance.
---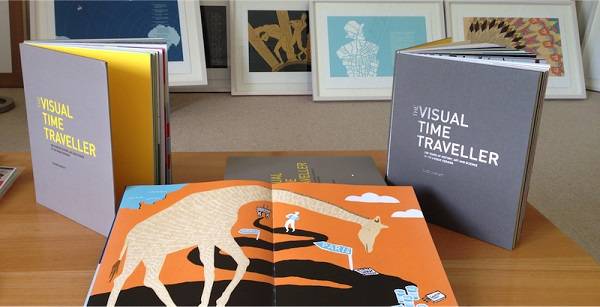 ---
The new illustrated edition of The Hidden Life of Trees brings the wonders of trees to life like never before. The book reveals fascinating insights into the lives of trees - the fungal communication highway known as the "wood wide web," the difficult life lessons learned in tree school, the hard-working natural cleanup crews that recycle dying trees, and much more. The images are spectacular, striking close-ups of bark and seeds, panoramas of vast expanses of green, and a unique look at what is believed to be the oldest tree on the planet.
---
Taking us on an incredible journey across centuries and galaxies, accompanied by his characteristic wit, Trinity Professor Luke O'Neill explains how it all began, how it all will end and everything in between. In the same chatty tone as O'Neill's weekly slot on Newstalk's Pat Kenny Show, Humanology explores the science behind our existence, inspiring as many questions as it answers about science, life, and the link between them.
---
The world-famous cosmologist and author of A Brief History of Time leaves us with his final thoughts on the biggest questions facing humankind. Brief Answers to the Big Questions is a fascinating book - Will humanity survive? Should we colonize space? Does God exist? These are just a few of the questions Hawking addresses in this wide-ranging, passionately argued final book from one of the greatest minds in history.
---
The Monkey Radio Speaker features an antenna that snaps just like a monkey tail! This is the coolest, clever Bluetooth Speaker we've ever seen! Swing this speaker in any place, any time. The antenna, like a monkey tail, will snap on tubes, handles, branches, even the shower - it's water resistant. Nothing good on Radio Rock? Simply switch to the Bluetooth mode to enjoy your favourite music.
---
We all know an 'actual, factual' sort of person who thinks they know-it-all - well, lets see how smart they REALLY are with this book by Tim Peake. Part puzzle book, part guide, The Astronaut Selection Test invites readers of all ages to attempt the European Space Agency's rigorous astronaut selection and training program.
---
Our Chocolate Human Hearts are back in stock and We're very excited to now have these incredible Chocolate Human Brains - These bloody beauties would make the perfect gift for that friend who is all brains and will appreciate .the anatomical accuracy of these stunning chocolates! Available in left or right hemisphere and made of quality white, vanilla chocolate.
---
We love these deadly Speks magnetic building spheres. Also known as Buckyballs, these tiny magnetic balls can be clustered and molded into a variety of shapes, spheres, patterns and tubes. These have all the tactile stress release of your old squeeze ball, only with loads more Science and the spectacular power of magnetism!
---
Of course the best thing about gifts is the simple joy of giving but with a clever gift you also get something back - a load of credit for choosing it! These gifts will just show everyone how clever you are! - you're welcome! Hopefully we've inspired you and of course here at Science Gallery Shop we're all happy to help you find the perfect gift, just ask!